Welcome to St Joseph – A note from the Principal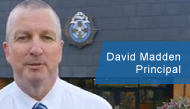 St. Joseph's Secondary School was founded in 1858 and has a proud tradition in offering an excellent teaching and learning experience to second level students in the local and wider community. The school is under the trusteeship of Edmund Rice Schools Trust. We offer a Junior and Leaving Certificate curriculum, Leaving Cert Applied Programme and the Transition Year programme. Our academic courses are complemented with a wide range of extra-curricular and co-curricular activities which are detailed in this website. We have completed a substantial building programme which has doubled the floor space of the building. This bring the capacity of the school to 900 students. Additionally we can now offer a wide range of option subjects; 10 option subjects at Junior Cert and 18 option subjects at Leaving certificate. The Transition Year is not compulsory and the Board of Management set the number of classes in TY to cater for the demand. This website has links to all its school policies and also has a large database of Newsletters which is a useful source of information on the day to day activities in St. Joseph's.
Best Wishes, David Madden
Video Tour – Our School
Parents 6th Year Information Evening – Presentations (pdf)
VSware Login
The Whitaker Alumni – Past Pupils
School Downloads & Links (pdf)
Forms
Newsletters
Surveys
Policies & Reports
Thanks to our Bloom Sponsors
Video Tour of St. Joseph's
To give you a overview of our school we would like you to click on the above link.
Latest News in Brief
Posted on April 18, 2018

The River Boyne is one of the defining natural fea...

Posted on April 18, 2018

A rich vein of nationalities permeates our student...

Posted on January 2, 2018

A big thank you to all the students and their fami...

Posted on November 15, 2017

Rugby Update : Our juniors won against Malahide CS...

Posted on June 28, 2017

The Prince of Monaco, His Serene Highness Prince A...

Posted on June 12, 2017

From the 21st to the 25th of August 2017, Mr. McDo...
Student Prefects 2017/18
This Year's Student Prefects:
Back Row (L-R): Luke Kelly, Sean Carolan, Jamal Ibraham, James Tiernan, Stan Goodwin, Sean Mutumbo, Conor Mc Kenna, Glyn Kenny.
Middle Row (L-R): Sean Black, Ronan O Gara, Liam Murray, Nathan Maguire.
Front Row (L-R): Harry Liscomb, Shane Lynch, Sean Crabtree, Jack Kennedy, Callum Thompson.