Welcome to St Joseph – A note from the Principal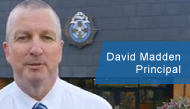 St. Joseph's Secondary School was founded in 1858 and has a proud tradition in offering an excellent teaching and learning experience to second level students in the local and wider community. The school is under the trusteeship of Edmund Rice Schools Trust. We offer a Junior and Leaving Certificate curriculum, Leaving Cert Applied Programme and the Transition Year programme. Our academic courses are complemented with a wide range of extra-curricular and co-curricular activities which are detailed in this website. We have completed a substantial building programme which has doubled the floor space of the building. This bring the capacity of the school to 900 students. Additionally we can now offer a wide range of option subjects; 10 option subjects at Junior Cert and 18 option subjects at Leaving certificate. The Transition Year is not compulsory and the Board of Management set the number of classes in TY to cater for the demand. This website has links to all its school policies and also has a large database of Newsletters which is a useful source of information on the day to day activities in St. Joseph's.
Best Wishes, David Madden
Video Tour – Our School
Parents 6th Year Information Evening – Presentations (pdf)
School Downloads & Links (pdf)
Video Tour of St. Joseph's
To give you a overview of our school we would like you to click on the above link.
Latest News in Brief
Posted on March 29, 2017

The Junior Rugby team won the Duff Shield in Donny...

Posted on March 22, 2017

From the 4th to the 11th March 2017 students trave...

Posted on March 3, 2017

Students are using different forms of recycled pla...

Posted on March 3, 2017

Students are also investigating biodegradable and ...

Posted on March 3, 2017

As part of the Erasmus+ Science project students a...

Posted on February 6, 2017

On Friday next 10th February in the St. Peter's ...