Welcome to St Joseph – A note from the Principal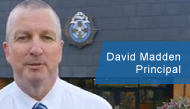 St. Joseph's Secondary School was founded in 1858 and has a proud tradition in offering an excellent teaching and learning experience to second level students in the local and wider community. The school is under the trusteeship of
Edmund Rice Schools Trust
. We offer a Junior and Leaving Certificate curriculum and the Transition Year programme. Our academic courses are complemented with a wide range of extra-curricular activities which are detailed in this website. Our medium term plans include an extension to the school to accommodate additional workshops and a laboratory. This will facilitate offering additional subjects at Leaving Certificate.
Best Wishes, David Madden
Video Tour – Our School
Parents 6th Year Information Evening – Presentations (pdf)
School Downloads & Links (pdf)
Video Tour of St. Joseph's
To give you a overview of our school we would like you to click on the above link.
Latest News in Brief
Posted on February 6, 2017

On Friday next 10th February in the St. Peter's ...

Posted on December 5, 2016

Over the past two months, Mr. McDonaghs Transition...

Posted on December 5, 2016

While some students were designing and creating ho...

Posted on November 1, 2016

On Thursday 22nd September, 5th and 6th year Agric...

Posted on May 9, 2016

Philipe Saint André recently joined students from...

Posted on March 15, 2016

The Tricolour now proudly flies at St. Joseph̵...